Perhaps you're struggling with difficult feelings, stuck in old patterns of behaviour unable to see the way out, dealing with life-changing events, or want some 'me' time… therapy helps you to make sense of it and supports you in finding a positive way forward.
At the core is the relationship between you and your therapist; providing a space for you to process the difficulties you're facing, offer relief and the opportunity to understand and work through your feelings.
I'm Susie Williams, a Psychodynamic counsellor offering support with Anxiety, Depression, Bereavement and more.
Talking is a healing process, and I'm here to listen.
It's important to feel comfortable with a therapist; someone who you can work with and helps you feel listened to and understood.
My ethos is promoting an honest and reliable relationship in which you can talk freely, share your thoughts, difficulties, experiences at the pace you wish, and I will listen in an empathic, non-judgmental and respectful way.
One size doesn't fit all and I will support you on your own personal journey.
Get in touch for a free initial chat to find out how.

I'm Susie, an experienced, warm and qualified Psychodynamic Counsellor and Therapist in St Albans, Hertfordshire, offering you a safe, confidential space to think and feel, and for us to explore your challenges together.
My approach is mainly psychodynamic which means that I will work with you to help you make links between your present difficulties and past experiences. We'll work together to make sense of your feelings and challenges, help you achieve insight and understanding, and in turn facilitate positive change, self-awareness and a capacity to cope with present and future difficulties.
Alongside my Private Practice, I am also the Diploma Programme Tutor at The Counselling Foundation, responsible for the implementation of the Diploma Course to Trainee Counsellors.
I'm a Registered Member of the British Association for Counselling and Psychotherapy (BACP) and work to their Code of Ethics and Standards of Good Practice. I hold full professional indemnity insurance and an enhanced CRB check.
Find out more about how I can help you.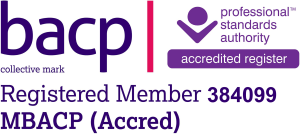 Nothing is too big or too small, all your feelings matter.
ANXIETY / DEPRESSION / STRESS / BEREAVEMENT & LOSS / ANGER / ABUSE (sexual/physical/emotional) / RELATIONSHIPS / SEXUAL ISSUES / TRAUMA / EMPTINESS / IDENTITY / SELF-ESTEEM / SEPARATION & DIVORCE / WORK-RELATED ISSUES / SELF-HARM / PERSONAL DEVELOPMENT
… and more. My work is based on integrity and compassion and I will work with whatever you choose to bring to your therapy sessions.
Contact me to arrange an initial consultation.
You may be certain you'd like to start therapy or you may still be left wondering how it will help, or indeed if I'm the right therapist for you.
The initial consultation is free of charge and a chance for you to tell me a bit about you and why you're seeking therapy at this time, and also a chance for you to find out about how I work and ask me any questions you may have.  This can be face-to-face, via Zoom or by telephone.
Following our initial consultation, if you decide you'd like to work together, then we will agree a suitable time and day each week. I hold morning, afternoon and evening sessions Monday to Friday.
Sessions take place in-person at my premises in St Albans or remotely via Zoom. Session fee is £60.
Contact me by email or telephone, or by filling out the Contact Form below. I always aim to respond within 48 hours.